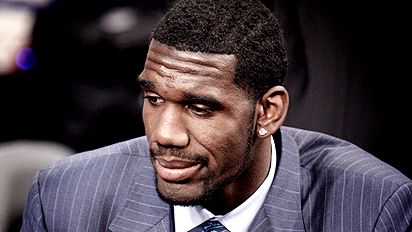 A sad bit of news today:
Greg Oden out for the 07-08 season after microfracture knee surgery.
For a guy with so much promise, he's faced an equal amount of pain.
I wish Greg Oden the best, and I hope he recovers.

But let's be honest. He's no Bill Russell. He's no Wilt. He's no Kareem. He's no Hakeem. He's no Shaq. NEVER has such a young, raw player--in the developmental stage of his career--been placed in such an adverse situation.

And honestly, if he had Kevin Durant's attitude and love for basketball, I would have higher hopes for his recovery. But he seems to be passive, injury prone, and not driven to be the great player like those great centers before him.

Fans and media have constantly failed to consider the MIKE CONLEY factor in all this. As Jason Kidd showed us in USA Basketball this summer, everyone looks good when you've got a great point guard, and I think Conley might have been underrated because expectations for Oden were so high.

I don't believe that Oden has more or nearly as much potential as Kevin Durant. He is the most complete player we've seen enter the league since Tim Duncan. He has a jumper that places him in the top 10 in the league from the start. He's got size, he's got heart, and he's got the green light thanks to the moves Seattle made this summer and the youth of his teammates. If this doesn't remind you of another young, College POY winner (as a freshman!), who went to a franchise that wasn't very successful-- a dynamic scorer who ended up becoming a complete player and 6-time champion-- then I don't know who possibly could.
But all the same... my prayers are with Greg Oden, not for his career, but that he doesn't get discouraged from this wall of adversity he faces.