"Good luck, LeBron. Go ahead, put in your 39-8-8 again so that everyone else can be happy...as you go home way too early for yet another year in your career." -Clifton Jessup III
"Clifton, I tried." -Lebron James after 27 pts, 19 reb, 10 ast, 3 stl, 1 blk, and 9 TO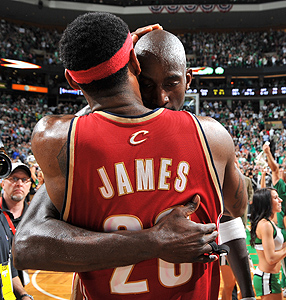 The picture above is interesting. Certainly because of the circumstances surrounding the embrace, but mainly because of who is doing it. Both High School phenoms, one of them now a grizzled veteran clearly on the downside of his career, the other entering the peak of his. Both entered the league as precocious 18 year olds,
one with much hype
and expectations, the other widely
expected in some circles to be a bust
.Drafted to cellar dwelling teams who were more then happy to start them early in their career and give them as much PT as necessary. The difference? The grizzled veteran, while he didn't have the explosive start to his career like the younger gun, found out that he will only go as far as his team will let him take them and that above all,
he needed help
. That help arrived in
leaving his beloved draft team
and hooking up with with 2 other veterans who had accomplished pretty much everything they wanted to on an individual level except lasting playoff success and a championship ring. 82 games and a thrilling 2008 playoffs later,
ubuntu
was released to the masses, and the grizzled veteran got his ring.
Anything is Possible.
The younger gun, however, at this point must sit and realize that after 7 seasons with multiple teammates, things haven't worked as expected. The individual accolades have come, two League MVPs, All Star Games,and
puppets
, but the thing which is keeping him from truly being a King is that Ring. At this point, no one is sure that he will stay with his home state team and continue to fight to break a 60 year streak of championships of any kind unless you count Drew Carey's Emmys. (Actually scratch that, he's never won one. Let's make that "Unless you count Drew Carey's People's Choice Award.") In a city where the sport's fans openly say "God Hates us" and the city is known as the "Mistake by the lake", Lebron James has been a savior. For him to leave, for them to have to take down the
giant billboard down town
and play games at the Q without him, would devastate the city. It may very well kill professional basketball in that region and force a move (all the Seattle fans are standing up screaming). Lebron has done nothing to help the media scrutiny about where he would end up. As a matter of fact, he has encouraged it, being coy in interviews and wearing other
city's sports teams on his head
. It's no wonder that the fans in Boston last night, among the savviest and smartest basketball fans in America, would start a chant like
this
. I hope that everyone is clear on a couple of things.
Number one, Mike Brown is and should be fired. He might be the poorest offensive coach in the League. NO questions. Even if Lebron returns, a ring will not come on Brown's watch. Not that Brown, anyway (Larry pick up!!).
Secondly, this roster needs a revamp. I have always wondered why on earth the team chose to settle for Jamison over Stoudemire. With Amare, this team may very well be preparing for Orlando on Sunday. Also, lets be clear that Lebron does not yet have a capable and confident second in command who can consistently play well along side him. Being a Bulls fan from the 90s,
Scottie Pippen
will forever be that prototype, and sadly, not too many of him exist anymore in the league. The closest one is Lamar Odom and he has already found his way to his Michael.
So what happens now? Lebron James is at a crossroads of his career. Stay in Cleveland, and risk becoming Karl Malone (without John Stockton), the face of a franchise which never gets the job done, or leave for a bigger market and deal with even greater expectations (if that is even possible). The thing that is the elephant in the room is that at this point, he is no closer to a ring then when he started. Michael Jordan won his first ring at age 28 in year 7 of his career. Lebron is in year 7 now, and is 25. Those 3 years of cushion may prove incredibly valuable. At this point however, Jordan had a STABLE, DEPENDABLE supporting cast, with a fellow All Star who didn't disappear in big games in Scottie Pippen (save the migraine talk, please) and cold blooded spot up shooters. Lebron has none of that. What he does have, is a center way past his prime who slows down the offense and needs the ball, a smaller combo guard who is a streaky shooter and can't be counted on, and an aging forward whose biggest weapon is a prayerful finger roll flip (much like Clifton's!) from crazy angles and a jumper which may not show. THIS WILL NOT WORK. The teams at the top of the league have rosters where 1-8 are talented and know their roles. Cleveland is a team 1-3; 1 and 2 may not necessarily show up. Lebron has finally reached the point where it may prove too difficult to meet or exceed expectations. That is amazing for me, as he has been so far ahead of the curve since the beginning. But expectations, like Father Time, don't stop once you start beating them, they only get greater. No one is discussing what impact this injury will have on Lebron either. I think it is way more serious than he is letting on. After 7 years in the league (lots of mileage, ask Kobe), rehab will not be the same as at age 21. The way Lebron plays (like Wade) doesn't help his health prognosis in the league as he gets older either. I don't see how Lebron doesn't leave, yet I don't see how he's not rebuilding with any decision he makes. I wish him the best, and for my father's sake (and health) hope for this: