1. Kevin Durant is gonna be a legendary scorer.
Thus far, Durant is 24th in the league in scoring at 20 ppg. While that doesn't seem
overwhelming, consider these facts:

a. He, as a rookie, is facing double and triple teams--something no 19-year-old not named LeBron has experienced in this league.

b. While he
is only 24th in scoring,
only 1 of the 23 players in front of him plays less minutes than his 33.1 minutes per game. He is actually

10th

in points per-48 minutes with a 29.0 average. AS A ROOKIE.

c. When you watch Durant, a lot of times his (a) lack of teammates who can score and
(b) his willingness to take bad shots are what lead to his sometimes horrid shooting numb
ers. But as his teammates improve around him and develop chemistry, and as he better understands his own shot selection, his scoring will definitely develop. Assuming he only becomes a 45% shooter, he would still approach 30 points per game, and I believe he will perform beyond that.
2. Orlando had better enjoy the present, because the future's gonna be tough.
Dwight Howard is only going to improve in the next h
alf-decade, but Rashard Lewis is proving to be a huge disappointment for the Magic, who assumed that he would become a superstar with the presence of a dominant big man (actually
it is Hedo Turkoglu wh
o has taken off with the development of Dwight Howard--do they now think HE is worth 20 million?). At 28 years old, he isn't going to have any drastic improvement as a player, so if the change of scenery and better surrounding te
ammates have had no effect so far, the Magic need to find some other players to surround Howard in pursuit of a championship. Problem is, all their money will be tied into Lewis for the next 6 years...


3. The New Orleans Hornets are 2 players away from a dynasty.
If you haven't seen a Hornets game this season, you haven't seen team basketball yet. The Hornets are every bit of a TEAM, and every player on the court contributes in the most stereotypical fashion; it's beautiful to watch. A 10-assist point guard. A shot-blocking, rebounding center. A sharpshooting forward. A 19-8 physical power forward. They have the pieces in place for an
incredible team, maybe even this time next year.

But they are not without needs. The falloff after David West and Tyson Chandler is considerable, and they need a bench player who can come in and rebound and play smart. This probably should be a veteran player, since the starters are young and can play strong minutes at this point in
their careers. They also need a scorer off the bench, as Bobby Jackson has aged considerably since he arrived in New Orleans. Morris Peterson was a good addition as a shooter for this team, but they still need something more of a pure scorer to make the bench more capable. All in all, this is a team to be feared, and as the Houston's, Dallas's, and San Antonio's age, they will be amongst the next tier of dominant Western Conference performers. Chris Paul is a top 3 point guard in this league, and he is more than able to lead this team to a title in his career.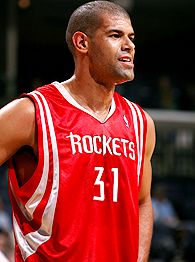 4. The Gay/Battier tra
de was a complete failure
on Houston's end.
Okay, okay... this IS obvious now.
But it should've been obvious last year. Instead of taking a talented player from a pedigreed university, they traded for a "Van Gundy guy" who had more than peaked as a 27-year-old, slightly-above-average defender.

My argument has remained the same since Gay was drafted and traded by the Rockets: even if he

is

a bust, couldn't Rudy Gay at least have MATCHED the paltry 10 points, 5 rebounds Battier had averaged in his 5 seasons? Wasn't that the MINIMUM Gay could do, considering his athleticism???

So they traded a player they considered unmotivated to be a star, thus motivating him after a reputable rookie season to ascent to star status on his team in just his second year. WOW. Thanks, Jeff. Good call.

The mistake that the Rockets have made since Yao arrived in 2001 has been their constant impatience and unwillingness to develop young players around him. They have brought all sorts of veterans in and out of the franchise, limiting its chemistry and ultimately w
asting what is now the prime of his career. Had they taken the first few seasons to develop youngsters, maybe kept Gay, and brought Yao along slowly instead of trying to win the difficult West while undermanned each season, they'd be much further along than they are with this current roster.


5. The Miami Heat are having a GREAT season.
Yes, I know they are 8-26...and I know that they've only doubled Minnesota's four wins this season...and I know Shaq is old... and I know Wade isn't fully recovered...and I know they have Ricky Davis starting with The Artist Formerly Known As White Chocolate. For all accounts, this season is DONE, and that's being generous. But always the cynic, I couldn't help but think how conveniently timed this downfall has come. I can't say it any more clearly than this: the Miami Heat are about to go through one of the quicker rebuilding seasons we've ever seen.

Let me explain my reasoning.

1.

They're freakin 8-26!

The Heat currently have the 2nd worst record in the league. If you're gonna suck, suck BAD, and suck EARLY! This year's draft features 4-5 players who could perform on an ELITE level in the NBA. The Heat have a great chance of adding one of the best 19-year-olds from this year's draft to help 26-year-old Dwyane Wade, which will definitely be a lethal combination. Beasley-Wade? Rose-Wade? Gordon-Wade? Mayo-Wade? They've got a lot of options, all of which allow them to leave Wade with a sidekick for the rest of his career. And by sucking so early in the season, they won't even have to tank at the end to stay among the worst and in high-pick contention.

2.

Shaq is old...but not that old

. He's not gonna be the most dominant player on the court ever again, but he is still a solid contributor, and with his huge paycheck the Heat will continue to look for contributions from Shaq. And as he's said himself, his minutes and numbers have gone down, but how many other centers in the league can get you 14 & 8 and shoot 59% in only 28 minutes?

3.

OPTION 1: $-back guarantees

--The Heat are currently $19 million under the cap, but they are looking to knock a load off of that total after this season. Jason Williams comes off the books with $9 million this season. Ricky Davis will take $7 million off. Earl Barron, Smush Parker, Chris Quinn, And Dorell Wright will take off an estimated $6.5 million combined. And the severity of Alonzo Mourning's injury almost guarantees that his $2.8 million will come off the books and not be renewed either. All together, that is close to $25.3 million dollars released, which puts them more than $6 million UNDER the cap! On top of that, only four contracts on the entire team span to even 3 years, two of them being keepers (Wade, Haslem) and two being stinkers (Shaq, Mark Blount). If this team can get under the cap with Shaq still on the team AND pick up a top-5 pick, they won't be pitied for much longer.

4.

OPTION 2: Player-back choices--

I didn't know what to call it, but salary dumping is a common occurrence in today's NBA, and the Heat are a prime target for teams looking to rebuild or dump talented players they can't afford. The contracts of Jason Williams ($9 million) and Ricky Davis ($6.8 million) can both be used to bring in talent from a team in need of financial
flexibility. I definitely think they should give the Knicks a call and see if they can snatch a few players from them, while their finances are so devastated. But basically the Heat have the option
to either pursue free agents by getting under the cap, or taking on talented commodities by
surrendering some of these valuable expiring contracts.

For these reasons, I no longer pity the Miami Heat. Actually, as a
Mavericks fan, I never did...(sigh)...