U.S. limits urged for salt in processed food - CNN.com
U.S. limits urged for salt in processed food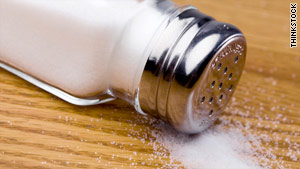 No decision has been made to regulate salt, despite recommendations from a top scientific organization.
STORY HIGHLIGHTS
Standards would cover how much food manufacturers and restaurants could add
Manufacturers and companies should voluntarily begin reducing levels, group says
Adults' recommended daily intake is 2,300 milligrams: about 1 teaspoon
Washington (CNN) -- Salt, a staple in most food, could soon be regulated if the Institute of Medicine has its way.
In a new report, the institute, the health arm of the National Academy of Sciences, is calling on the Food and Drug Administration to set national standards for salt added to processed foods and prepared meals in an effort to reduce Americans' consumption of sodium.
Salt consumption, long associated with increased risk of hypertension, heart disease and stroke, would be cut back gradually through a series of incremental reductions intended to help keep flavors consistent.
The new standards would set how much salt food manufacturers and restaurants could add to their products. The Institute of Medicine says that a ban on salt is not necessary but that regulation is, because decades of public education campaigns have failed to reduce Americans' intake.
Just thought this was interesting...